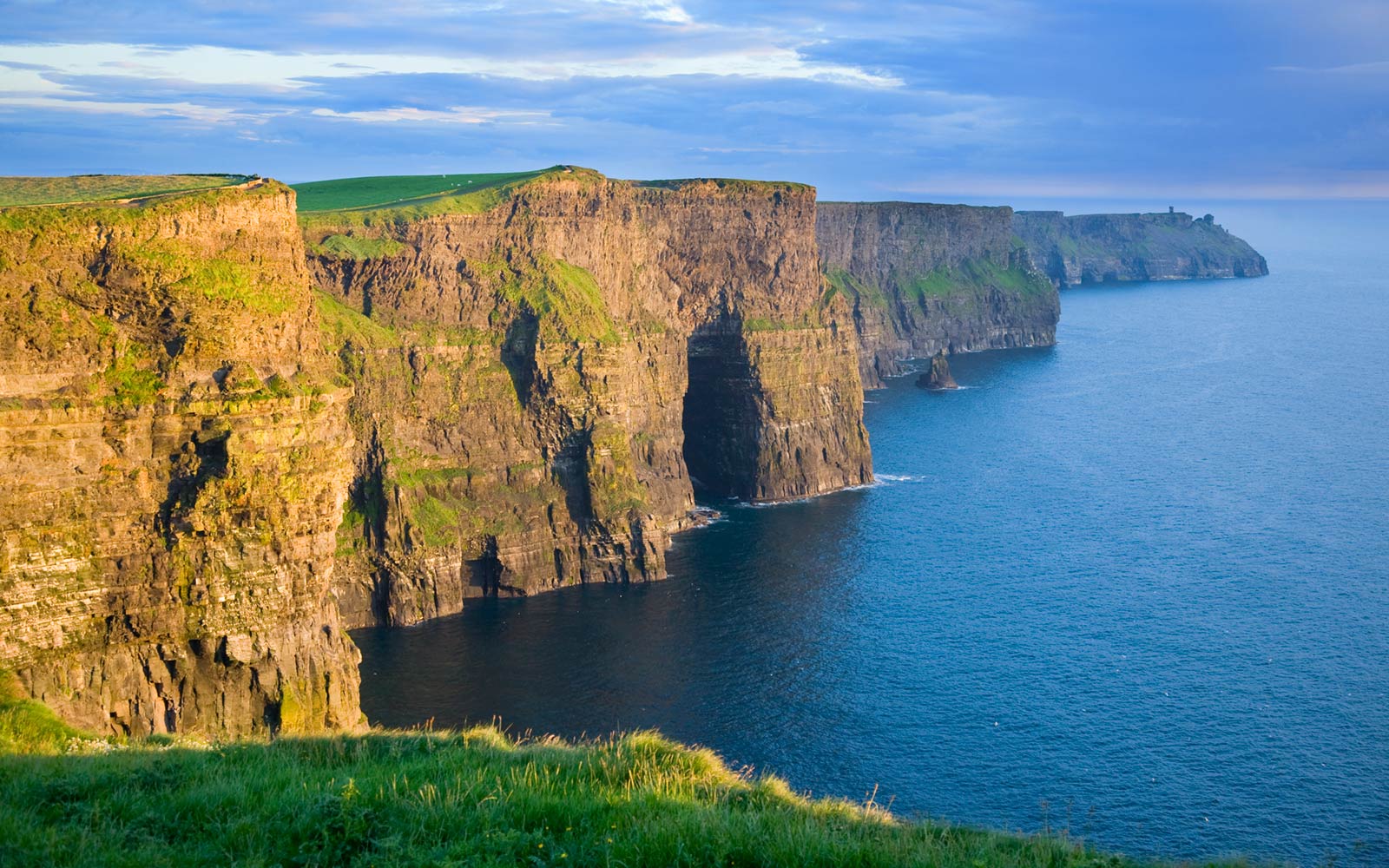 Ireland is a breathtakingly beautiful country that has been blessed by mother nature in so many ways. From the dramatic cliffs to the sandy beaches, the rugged mountain ranges to the pretty towns and cities, there are sights for all to see and Ireland's scenery is so interesting and varied it will keep young to old happy. We've selected our favourites, most scenic parts of Ireland below and hope you enjoy visiting them as much as we do.
1.Cliffs of Moher, Co. Clare
If visiting the ocean is your thing then the Cliffs of Moher in Country Clare will definitely float your boat. Of all of Ireland's scenery along its coast this is the most dramatic and most beautiful.
Stretching for five miles along the Atlantic coast, these 400 foot cliffs offer spectacular views out to sea and its here that you'll experience nature at its finest. Think salty sea air, the crashing ocean waves below, bird cry all around you and the wind whistling past you.
Its a gorgeous spot to come and gather your thoguhts, but do remember that in the summer months it can get quite busy so plan wisely. During the winter you may get lucky and have some alone time up on the cliffs.
2.Cobh, Co. Cork
Cobh is a gorgeous little town in County Cork and it a lovely spot to see some of Ireland's scenery. The town is full of candy-coloured houses that line the beautiful sea-front. Many cruise ships stop off here too so you'll often catch huge ships heading for the port. Pay a visit to the cathedral, visit the Titanic Museum which is significant because Cobh was its last port of call in 1912 and wander the chcoclate box streets. 3.Connemara National Park
Nowhere showcases Irelands scenery better than its National Parks and Connemar is no exception. Featuring 2957 hectares of bogs, mountains, grasslands, heaths and forest it is an explorers paradise. There are many walking trails in this area of varying levels of difficulty so don't forget to bring your hiking boots. The park is also home to lots of wildlife and if you're lucky you may spot Connemara ponies, red deer and an abundance of birds including skylarks, stonechats, and peregrine falcons. There is a visitors centre too that you can have a look around and discover the history of the park.  
4.Skellig Michael, Kerry
The magnificent Skellig Islands lie eight miles off the coast of Portmagee in South West Kerry. Rising majestically to 714ft out of the water they are really beautiful to see. On the summit of Skellig Michael stands a very well preserved sixth century monastic settlement. Take a tour to this beautiful island and see Irelands scenery from a different viewpoint. There are regular boat tours that will take you out and although it can be a choppy ride depending on weather conditions, it is most definitely worth it. 5.Galway, Co. Galway
Galway is a stunning harbour city on Ireland's west cost that sits where the River Corrib meets the Atlantic Ocean. This gorgeous city has loads to offer with shops, pubs, bars and live Irish music. There is a really rustic charm about Galway, visit the Cathedral, the food markets, the museums and take a walk along the harbour side. Definitely don't forget to visit the main shopping street which is easily one of Ireland's most scenic shopping areas with brightly coloured shop fronts, buskers and street performers everywhere with Lynch's Castle towering over the whole street. 6.Killarney National Park
Ireland's scenery doesn't get much better than in Killarney National Park. South and West of the town of Killarney you'll find this beautiful spot which contains the highest mountain range in Ireland, the McGillycuddys Reeks and at its foot the beautiful lakes of Killarney. If you are looking for some photo opportunitues then look no fruther,. There are many walks and trails around the lakes, up the mountains, through the forest and the park is just so peaceful you could get lost for hours with just yourselves and nature all around you.
A visit to Ross Castle is also nice, sitting on the lower edge of Killareny's lake the castle was built in the 15th century and remains today for all to see.